When
Typically held on the third Friday of every month, whether the lodge is having regular meetings or not. Check out our lodge calendar.
Here's a list of upcoming dinners:
2021 (Dates dependent on DHHS orders)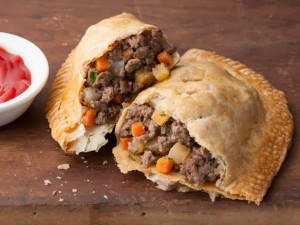 Friday, January 15th – Canceled due to DHHS orders
Friday, February 19th – 5-7pm
Friday, March 19th – 5-7pm
Friday, April 16th – 5-7pm
Friday, May 21st – 5-7pm
June – Skipped, due to proximity to Yankee Doodle Days
Friday, July 16th – 5-7pm
Friday, August 20th – 5-7pm
Friday, September 17th – 5-7pm
Friday, October 15th – 5-7pm – LAST DINNER FOR 2021
November – Skipped, due to proximity to Thanksgiving Holiday
December – Skipped, due to proximity to Christmas Holiday
Reminder System
Have you ever missed one of our dinners?  We can solve that!  Sign up for our reminder system and we'll let you know a couple of days in advance and the morning of each of our dinners.
---
Where
200 River Street, Grand Ledge, Michigan — Get Directions
---
What
Each of our pasties is a full pound of straight-from-the-U.P. goodness.  Of course, you can order a half a pasty if you like.  We offer; Beef, Chicken and Veggie.  All dinners come with; Pasty, Drink, Cole Slaw and Dessert.
No pre-orders.  It's first-come, first-served and we commonly sell out so we recommend that you come earlier, rather than later.
---
Price
Full-Pasty Dinner: $9.00
Half-Pasty Dinner: $7.00
Full Pasty Only: $6.00
Box of two frozen pasties: $12.00
---
Frozen Pasties
You can stop by the back door of the lodge to purchase boxes of frozen pasties.
Frozen pasties are available on these days:
Our monthly sit-down dinner is between 5:00pm and 7:00pm on the third Friday of each month. You can pick up frozen pasties on those days between noon and 7:00pm.
Before our regular meetings — on the first Wednesday of the month (6:00pm-7:00pm), in all months except July & August.
We typically cook pasties a couple of times each month just to stock up the freezer.  These aren't regularly scheduled but we do announce those days on the Grand Ledge Community Facebook Page.
We do our best to stick to the above schedule and to announce our events on our Facebook Fanpage and the Grand Ledge Community Page to give you as much notice as possible.  If you'd like us to notify you of upcoming events by email, just click this button and fill out the form…