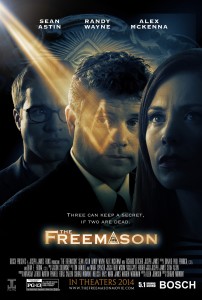 Greetings brothers!  If you're reading this, you've found your way here because of our upcoming fundraising event at:
NOON — APRIL 8th, 2017
Grand Ledge Sun Theatre
316 South Bridge
Grand Ledge, MI 48837
We've arranged with the Sun Theatre in Grand Ledge, for a showing of the movie "The Freemason" starring Sean Astin.  For you older gents, that's Patty Duke's son.  For you younger gents, that would be the guy who played Sam Gamgee in the Lord of the Rings.
OPEN TO THE PUBLIC — The Ticket price is only $5 and ALL proceeds go directly to the Grand Ledge Masonic Scholarship fund!
Fill out the form below if you'd like to reserve a seat.
We ask that if you complete this form and reserve your seat, that you still donate the $5 even if you're not able to make the movie showing. We'll hold your tickets for you until 15 minutes before the show starts.  If you've not yet arrived, we'll let tickets go to the general public…. so, PLEASE PLAN ACCORDINGLY!  We'll be meeting back at the Grand Ledge Lodge for a little more fellowship and refreshments after the movie.
If you have ANY questions at all, please don't hesitate to contact our Senior Warden, Kevin Skarritt at 517-755-0770, or email him.
---
---